What's Inside
Back to Work
The fall season is almost upon us and as our summer staff goes back to school, returns to year-round jobs, or continues to make art (staff, keep us posted on what you're up to), the Usdan year-round staff size shrinks from over 300 to about a dozen of us. With another summer filled with creativity and nature, we look forward to reflecting on this summer's successes, areas for improvement, and furthering our goals of instilling creativity and inspiring young artists in 2020. During the off-season, our staff will be working out of the New York (212.772.6060) and Long Island (631.643.7900) Offices. Here's our year-round staff:
Lauren Brandt Schloss, Executive Director
Oscar Amaya, Facilities Manager
Anthony Amico, Director of Facilities
Kerry Barnhart, Senior Director of Student Affairs
Al Chiavaro, Facilities Maintenance Technician
Kathleen Drohan, Director of External Affairs
Motaz Elzalata, Senior Accountant
Julio Garcia, Senior Groundskeeper
Jillian Greenberg, Director of Education
Marcos Flores, Junior Groundskeeper
Stacey Jamieson, Admissions Counselor
Nicole Martinez, Marketing and PR Associate
Sari Sharaby, Senior Director of Finance and Operations
Olivia Wise, Enrollment and Admissions Coordinator
Lost and Found & Student Artwork 
If you would like to pick up your student's artwork from our New York City location or if you are interested in speaking with the Usdan staff about other camp-related questions, please call us at 212.772.6060 between the hours of 9:30 a.m. – 5:30 p.m. If your student's artwork is still in our Long Island office but would prefer to pick it up in the city, please let us know. 
If you need to pick up your student's artwork or a lost item from our Long Island location, please let us know by calling us at 631.643.7900 between the hours of 9:00 a.m. – 5:00 p.m.
2020 Enrollment
Deadlines
Dates, rates, and course offerings for our 2020 season will be announced soon. Courses will be announced by November 15th and enrollment will open to the general public starting November 30th.  Don't miss out on these announcements by keeping up to date on our website and newsletter. 
Welcome2U
Interested in getting first dibs on class offerings for next summer? While Return2U is closed, you can still register for the 2020 season by joining the Welcome2U program. Join by October 31st to get your first pick of classes two days earlier than the general public. 
By signing up for Welcome2U, you will receive these benefits:
Get Early Access: Select your classes two days before enrollment opens to the public.
Priority Enrollment Discount: Get $100 off tuition.
Stay in the know: Learn about new classes and other Usdan news.
Cancel without consequence: Cancel your registration before November 30 and receive your full deposit back. 
For more information, visit our Welcome2U page. 
We Miss U: Photos from the Summer
Though it's only been a few weeks since camp ended, we already miss seeing you around campus. We hope students will keep creating in the off-season and we would love to see some of that work. If your child makes art in the way of participating in a theater production, playing at a recital, or even just painting in their sketchbook, we want to know about it. Tag us in any photos of your child's art-making at @usdanarts on Instagram. Feel free to also send photos to campdirector@usdan.org and we might feature you in next month's newsletter. 
Here's the photos from all the students who took and submitted pics of their summer at Usdan.
 Thank you to all the students who contributed to the newsletter.
Andrew G.
Ben S.
Bradley Z.
Christina P.
Esti R.
Jake B.
Julia F.
Maddie D.
Nydia T.
Sadie G.
Sara R.
Riya D.
Vassilia S.
Looking Back and Staying Connected 
If you and your family want to look back on these summer memories, you can find images and video in our old newsletters as well as our Instagram, Facebook, and YouTube channel.
Follow our Instagram and Facebook for updated content, and subscribe to our YouTube to rewatch Festival Performances and weekly recap videos.
We Need U
At Usdan, we believe all children should have the opportunity to experience a safe and encouraging space for creativity and artistic passion on our beautiful campus. Tuition, however, only pays a portion of the cost needed to keep our departments, facilities, and studios running smoothly. The success of Usdan and our ability to provide an enriching summer filled with learning, collaboration, and friendship to children all depends on the support of generous donors like you.
Scholarship Fund 
As we get begin to turn our efforts towards Usdan's 2020 season, it remains a priority for us that cost not be an obstacle for students who wish to attend Usdan for a summer. Nearly 500 of our students receive aid in the form of need-based or merit scholarships. Every year, we provide approximately $1.5 million in scholarships to these families. However, the demand far exceeds our ability to provide aid to hundreds of students. We want to increase this goal and continue to make Usdan accessible to more students who want to attend. You can help us in that effort with a gift of any size by clicking here and selecting 'Scholarship' when making your donation. 
Reimagine Fund
On August 14, 2018, a fire claimed two of our beloved studios and allowed us to uncover some additional repair needs. Looking forward, we are Reimagining  buildings across Usdan as we improve infrastructure and create a campus for our next fifty years.
As we continue Reimagining, our financial needs continue.  You can help us in that effort with a gift of any size by clicking here and selecting 'The Reimagine Fund' when making your donation. You can also read more about our Reimagine efforts here.
Merch Item of the Month: Baseball Caps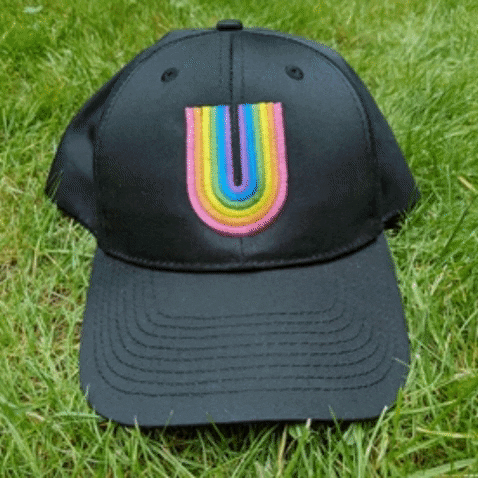 Even though temperatures are dropping, you still need protection from damaging sun rays. Whether you're excited for the upcoming World Series or just a huge Usdan fan, these baseball caps are a great accessory for the end of summer. Coming in two different designs, these hats are priced at $12.
If you wish to purchase this or one of our other merch items, visit our online store. We will mail your orders to you within two weeks.
#AMoreSustainableU: Sustainability Tips and Tricks
Going into the 2019 summer, one of our top priorities was focusing on sustainability and environmental consciousness. We are continuing these sustainability efforts into the off-season. We would love to hear how you incorporate sustainability into your household. 
Our New York office has adopted almost all of these practices in the last year and hopes to expand our sustainability efforts in the off-season:
Once the weather starts dropping, consider putting on extra layers before turning up the heat.

Print documents only when necessary.

Always unplug electronics when not in use.

Bring in a desk plant to improve indoor air quality and add some nature to the office environment.

Use cloth towels and napkins in the kitchen and bathroom.

Eat less meat to reduce your carbon footprint.

Start a compost bin with food scraps.