What's Inside
What's New With U? – Week Two
Theater shows have been cast. Chickens have come home to roost. Stories and costumes are being spun. And, the sounds of music and laughter are echoing through the trees. Camp is truly in full swing.
We began Week 2 by welcoming The Knights to the Amphitheater. The orchestral collective added a unique twist to their music, incorporating a poem by Long Island's Walt Whitman into the performance. On Tuesday, pop-rock band BETTY gave an electrifying showcase, bringing everyone to their feet and into an impromptu conga line.
The first student Festival performance of the year was presented by the Music Department. They impressed with renditions of classical pieces and original songs.
We rounded out the week with two incredible performances: On Thursday, funky Haitian music group, Lakou Mizik got us clapping; and on Friday, the spectacular acrobatic tricks of The Red Trouser Show made the crowd go wild.
See U next week.
Here's Looking at U
Every newsletter, we will have a compilation video and collection of photos from the previous week. Scroll through and click on photos to enlarge.
#AMoreSustainableU: Sustainability Tips and Tricks
This week, special guests "Wildman" Steve Brill and his daughter Violet visited Usdan to lead Nature, Organic Gardening and Sustainable Art & Design students and staff on a foraging tour around campus.
Blending deep expertise with humor,  the father-daughter duo shared stories and tips about the plants and flowers found around camp, educating everyone about which are safe to eat (and which aren't).  Campers even got to sample edible plants such as Day Lilies and Wood Sorrel leaves—both of which were tastier than expected (reminder: Don't eat plants on or off-campus without supervision).
Steve wrapped up his tours by signing off with his signature "Brillophone Call."
And now, bit of inspiration to close out the week:
"We do not inherit the earth from our ancestors, we borrow it from our children." – Native American proverb
Gearing Up: Merch Item of the Week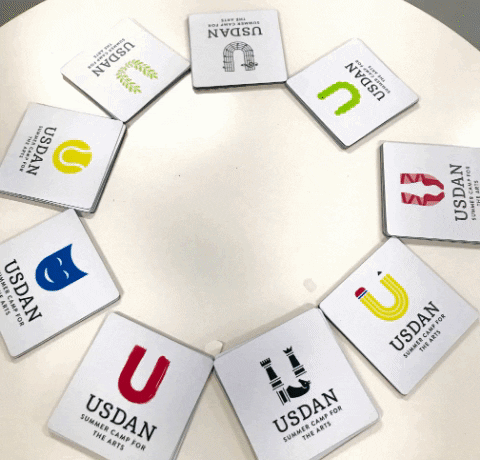 Each week, we'll be sharing with you a featured merch item from our store. This week, it's Usdan magnets, perfect to stick on your car or fridge for only $5.
You can order this and more at the Usdan shop online or at our Welcome Center.
Up Next: Upcoming Events and Programming
Next week's event lineup is brimming with amazing performances from visiting artists and students alike.
As a reminder: You're always welcome to join us for a performance and backstage lunch. To arrange to attend the backstage lunch, contact us at RSVP@usdan.org at least 24 hours in advance.
The full event calendar can be found here. Next week's schedule is below:
Monday, July 15
Festival Guest Performance – Voices of Broadway: Frozen
12:10 PM and 12:35 PM
Tuesday, July 16
Festival Guest Performance – Falu
12:10 PM and 12:35 PM
Wednesday, July 17
Festival Student Performance – Performance Poetry & Rock Band
12:10 PM and 12:35 PM
Thursday, July 18
Festival Student Performance – Select Piano Performances
12:10 PM and 12:35 PM
Friday, July 19
Festival Student Performance –  Jazz Ensemble: 12:10 p.m.
Advanced Jazz Ensemble: 12:35 PM
Administration Corner
The Sassafras Bash
Please join us for The Sassafras Bash, our summer Gala, on July 25th.
Dinner tickets are going fast, so get yours here. Children are welcome at the Gala dinner with a Gala ticket or are invited to The Seedling Shindig, a free party for kids of dinner attendees.
Extend your summer
We're looking forward to five more weeks of creation, exploration, growth, and joy.
That means there is still time for 4-week campers to extend their summer experiences at Usdan by signing up for the final three weeks of camp: July 29th to August 16th. We have a special extension deal where we are waiving the administrative fee if you choose to extend your summer before Friday, July 19th. After July 19th, all campers interested in extending will have to pay the $325 administrative fee. The deadline to extend your summer is July 24th. 
Please note that families will be charged the difference between the 4- and 7-week programs in addition to any necessary premiums (and depending on class and bussing availability).
Interested? Please contact the enrollment office as soon as possible to secure your child's spot: enrollment@usdan.org.
We have an app now!
#LaurensPolaroids
Executive Director Lauren Brandt-Schloss is giving us a blast from the past with these polaroid photos.
What Do U Think? Weekly Poll Question
What has surprised your child most about Usdan so far? Tell us at tellus@usdan.org.